← Home Thingscon 2019
Foresight Ghent : alternative futures
Friday, December 7, 11:00-13:00h
How would your life and job look like in an alternative future?

We live in chaotic, complex and sometimes contradictory times. Think Trump, fake news, technological disruption, climate change and the likes. As a consequence, it can be very hard for people to find their way in today's society. What could help is a point on the horizon. A vision of a preferred future that steers our choices and helps us create and design the ideas, practices, ethics and technologies that help us get there. That is where Foresight comes in.

In the first part of this session, the Digipolis Ghent Foresight team will give an introduction to foresight using a case study. We present the methodology and results of a co-creative Foresight project we ran together with over one hundred civil servants in Ghent. At the end of the project, four alternative images of the future were written. Four different societal contexts, wherein people live, work and give meaning to their life. Four different versions of Ghent in 2040 that are or aren't wishful, depending on who's looking.

In the second part, you will be put to work. You will be given one of these four new urban realities, and will be triggered to rethink your own life and work environment therein. As IoT-professionals, we invite you to enrich the four alternative images of the future with your technological expertise. These alternative contexts will force you to reflect on your current state-of-being, assess what you like or dislike in the given context and design strategies to adapt to (or change) the new as-is.
Host
Joris Wauters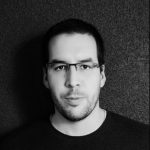 Joris Wauters is a member of the Digipolis Ghent Foresight team. He focusses on foresight methodologies, trend/emerging issues analysis and the interplay between society and technology. He is co-editor of the scenario's called 'Four scripts for Ghent 2040. People and technology in the city of the future' and curated the 'Post Fossil City Expo' in Ghent. Joris holds a MA in history and is currently finishing his PhD in social sciences.